Thank you to all of November's Battle Beets participants.

View the results and December's battle veggie after my entry recipe.
Warm Beet 'n Scallop Salad with Crabapple Relish– Serves 4
All Local Ingredients
6 organic beets
10 Crabapples, cored and quartered
1 onion, minced
1 bunch mint,
1/4 cup Apple Cider Vinegar
2 tbs Organic Honey
Olive Oil, s&p

Relish Ingredients

Squeeze, Splash, Combine, Taste.

Chill.

Wrap the beets in foil and roast in a 350°F oven for 30-40 min or until a knife pierces through easily.

Peel, slice, arrange, drizzle, season.

Cook. Rest. Slice.

Clean. Remove tough adductor muscle.

Pat dry. Salt. Sear.

Sizzle. 30 seconds per side.

Slice.

Alternate.

Top.

Drizzle. Season.
POW!
---
Thank you for all the wicked recipes! They put my simple salad to shame.
View them all and Leela's Pick on her (this month's host's) page.
My Pick:

Uncommonly Delicious Beet Puffs by Kian of RedCook.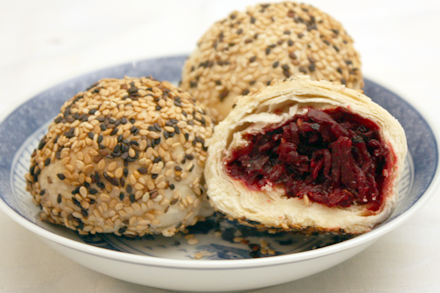 Ever since I was a child, I've loved anything made with daikon or Chinese white radish. My favourite application has always been flaky, puffy pastries filled with shaved daikon and Chinese ham. I always burn my lips and tongue on the piping hot filling from sinking my teeth into it too eagerly… but it never stops from continuing to bite more. ow!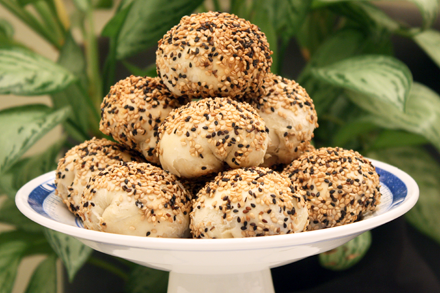 Kian cleverly substituted daikon with "sweeter, earthier" red beets and enveloped it in jawdroppingly gorgeous lard puff pastry, topped with a crunchy sesame crust.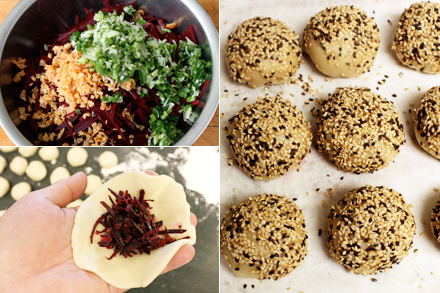 Congratulations, Kian! Please feel free to proudly display the winner badge on your page!
---
I'll admit… all the entries were so amazing I couldn't pick just one. My close runner up is Roasted Beet and Ginger Risotto with Fontina by Mary of BlissTree.com.
Mary's gorgeous, vibrant risotto really stood out. The glistening emerald deep-fried beet leaves adds a nice touch of colour against the ruby-stained rice.
I am especially smitten by this heart made of beets. I can't wait to try this.
---
Submissions Due: December 4th

I'm Hosting! Come join the fun!

Everyone is welcomed. Please Click here for detailed instructions.
---